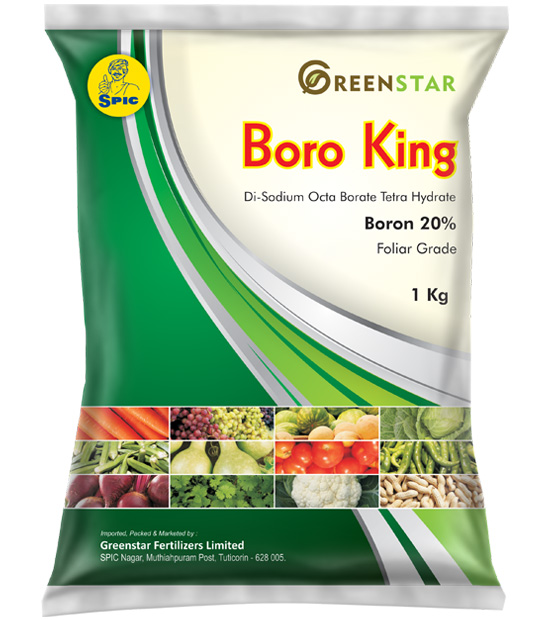 100 g / 250 g / 500 g / 1 Kg Packs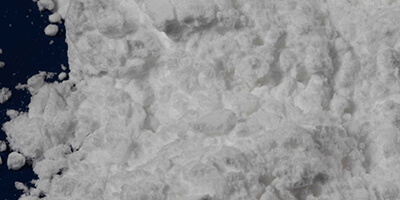 SPIC Boro King
SPIC Boro King is Disodium Octoborate Tetrahydrate with Boron 20%. Boron is an essential micro nutrient for seed and fruit development.

APPLICATION
SPIC Boro King (Boron 20% ) is used as foliar application at 1-1.5 g per litre of water ; First spray during flowering ; subsequent sprays at 15 days interval.
Cabbage, Cauliflower, Bhendi, Tomato, Chillies, Melons, Gourds, Grapes, Capsicum, Carrot, Beet root, Ground nut, Coriander and all Plantation crops needs Boron.
Arrests flower and fruit drops and fruit cracks
Uniform quality and size for produce
Helps in pollen tube elongation, pollen germination and complete pollination
As an important Micro Nutrient, can be applied to all crops
SPECIFICATION
| Sl. No. | Composition | Percent |
| --- | --- | --- |
| 1 | Boron as B (Minimum) | 20.00% |
| 2 | Matter insoluble in water (Maximum) | 1.00% |
| 3 | Lead as Pb (Maximum) | 0.03% |
| 4 | Cadmium as Cd (Maximum) | 0.25% |
| 5 | Arsenic as As (Maximum) | 0.01% |