Non Edible De-Oiled Cake Fertilizers
Organic fertilizer based on a combination of non-edible de-oiled cakes which meets the prescribed standards under The Fertiliser (Inorganic, Organic or Mixed) (Control) Order 1985.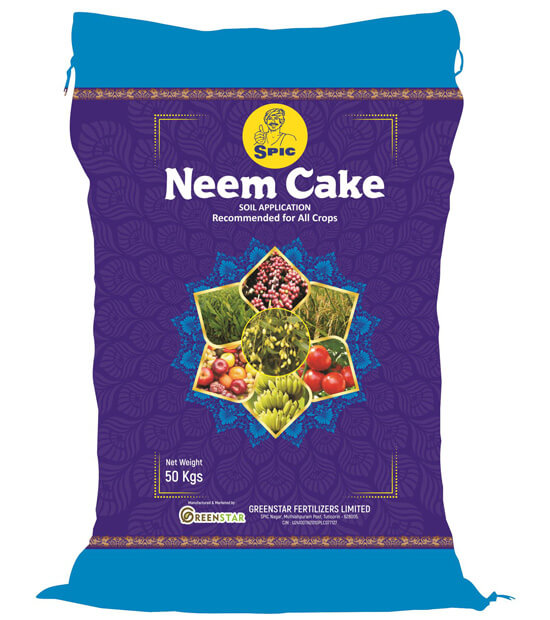 50 Kg HDPE Bag Packing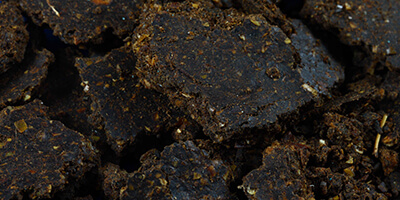 SPIC Neem Cake
Greenstar's SPIC Neem Cake is extracted from the neem seeds after the complete extraction of Neem oil.

APPLICATION
Apart from plant nutrients, Neem cake is found to be very effective against pests like Helicotylenchus erythrina, Melidogne arenaria, Melidogne incognita, Melidogne javanica (Root Knot nematode) found in Banana, all pulses and all vegetable crops. Also, this will protect all the crops from early wilt diseases. Neem Cake acts as a pest repellent in all crops. White ants and other soil insects are also controlled by neem cake.
During first ploughing, apply 100 kg /acre as soil application. Subsequently, 50 kg per acre as per the crop needs.
Neem cake can also be mixed with soil and may be applied on and around the roots of the plants. This will have a remarkable result in the improvement of the plants.
Neem cake can be applied safely in all cultures to fruits bearing crops, all plantation crops, melon, cotton, tobacco, vineyard, all vegetable and flower crops.
Neem cake can be mixed with water and sprayed over all citrus crops to control all black spots and protect over canker diseases.
Neem coated urea, increasing Nitrogen uptake by slow and steady release.
Neem cake will have a better control over all type of Nematodes for all crops.
SPECIFICATION
S. No.
Composition
Content
1.
Azadirachtin
Minimum
10000 ppm (0.1%)
2.
Salanin
Minimum
1500 ppm (0.15%)
3.
Nitrogen
Minimum
2.52%
4.
Phosphorus
0.92%
5.
Potassium
0.98%
6.
Sulphur
1.2 %
7.
Magnesium
0.75%
8.
Nimbin
Minimum
850 ppm
9.
Moisture content
10 %
10.
Carbon
1.2 %
11.
Calcium
0.77 %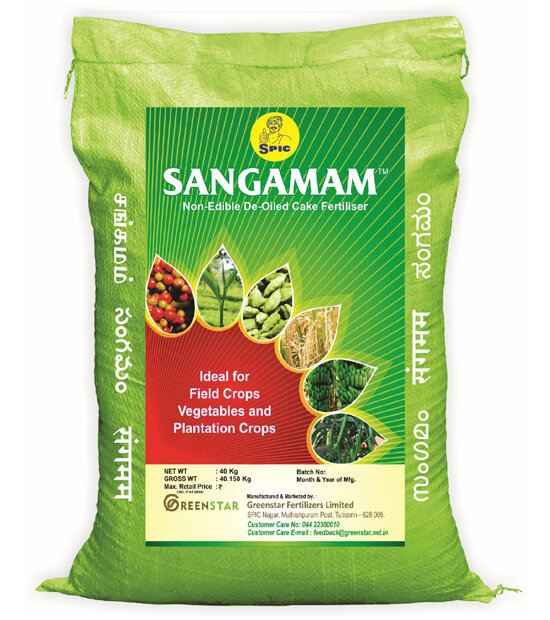 20 kg & 40 kg
SPIC Sangamam
Description
Contains Turmeric Powder & de-oiled seed cakes from Neem, Mahua, Castor & Pungam in powder form
Improves soil texture and structure resulting in good quality produce
Enhances root penetration, spread & better anchoring of the crop
It can be mixed with other fertilizers
Recommendation
Cereals, Pulses and Oil seeds: 100-200 kg/acre
Sugarcane, Coconut, Vegetables and horticultural crops: 200-300 kg/acre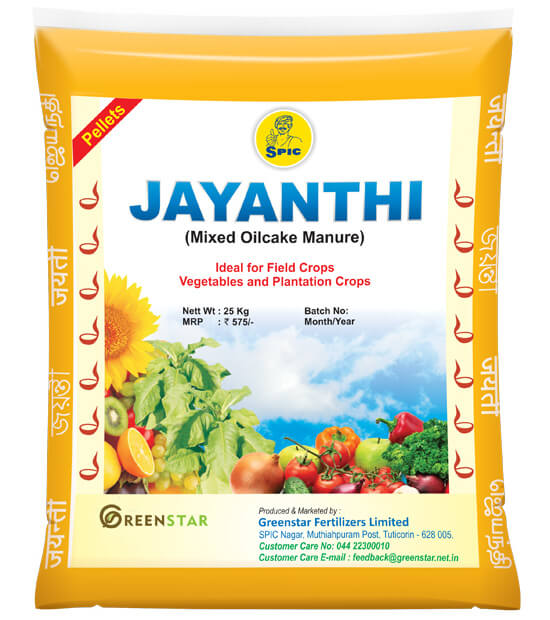 25 Kg BOPP Bag Packing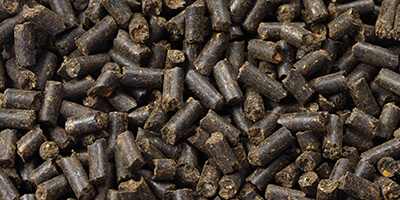 SPIC Jayanthi
Greenstar brings you SPIC JAYANTHI, a fortified organic manure in pellet form based on oil meals for unprecedented yields from your farms.

APPLICATION
In general, for all crops a minimum of 200 kg /acre of SPIC JAYANTHI to be applied along with the other organic manures every year for bumper yield.
Cereals, pulses, and oil seed crops at 100 to 200 kg/acre
Sugarcane at 200-300 kg /acre
Vegetable and other annual horticultural crops at 200 – 300kg/acre.
Coconut, fruit crops and plantation crops at 300-400 kg/acre
SPECIFICATION
The main ingredients in SPIC JAYANTHI are oilseed cakes from Neem, Mahua, Turmeric powder and Pungamia extracts. These are fortified together in a well balanced mix with Nitrogen, Phosphorus and Potash. SPIC JAYANTHI also contains the benefits of micronutrients that go well with manures.
Benefits
Provides proportionate blend of Macro and Micro nutrients that leads to a higher quality of produce.
Improves soil texture and structure, resulting in better absorption and adsorption of nutrients.
Increases soil aeration and fine tilth, ensuring optimal growth during all stages of plant growth.
Enhances the soil metabolism, thereby increasing microbial population.
Encourages greater root penetration and spread, anchoring the crops well.
Facilitates greater uptake of nutrients, ensuring super yields and incomes.
Acts as a safe herbal insecticide, because of the presence of Neem extracts.