Secondary Nutrients
Secondary nutrients are very much vital to the crops and soil. Calcium, Magnesium and Sulphur are called secondary nutrients. Each and every secondary nutrient plays a dominant role in the plant nutrition management. Increased need of Calcium, Magnesium and Sulphur by crop plants in addition to primary nutrients such as N, P & K has led Greenstar to market CMS in the form of granulated and powder form of 'Keerthi' and Phosphor Gypsum in bulk and bagged as per the market requirement.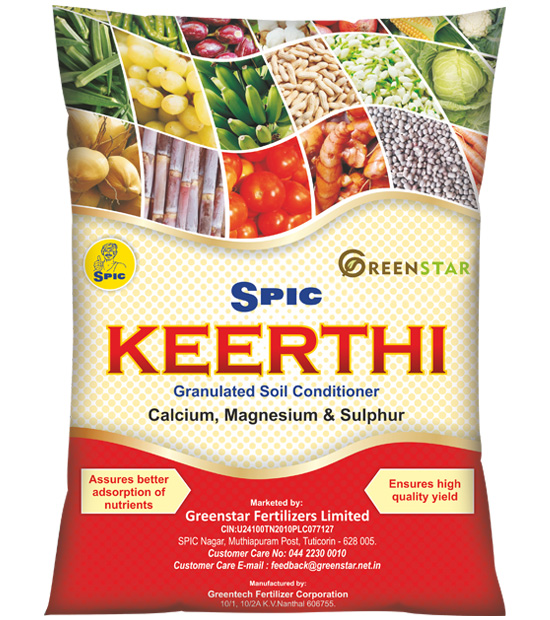 Packing – 50 kg HDPE Bag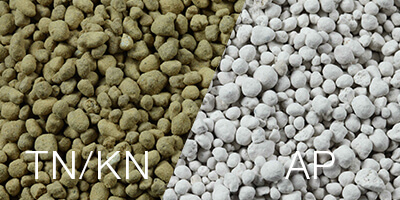 SPIC Keerthi
Calcium (Ca), Magnesium (Mg) and Sulphur (S) are the three secondary nutrients required by plants. Different ratios are followed in different states based on the soil requirement :
| State | CMS Ratio |
| --- | --- |
| Tamil Nadu & Karnataka | 15:03:05 |
| Andhra Pradesh & Telangana State | 15:05:10 |

APPLICATION
It is recommended for all crops @ 50 – 100 kgs / acre as basal application or top dressing for every year. For long duration crops, twice in a year and for perennial crops thrice in a year to be applied.
Soil Salinity and Alkalinity are corrected.
Ideal soil Electrical Conductivity (EC) is maintained.
Increases the photosynthesis thereby improves chlorophyll formation.
It gives the crop resistance to pests and diseases.
It helps the crop to grow well even in drought condition. Improves yield and quality of produce.
SPECIFICATION
Calcium: Helps roots and leaves to grow strong and healthy, in addition, it helps strengthen overall plant structure, increasing resistance, hails, insects, and other sources of physical damage.
Magnesium: Among its roles in plant growth, magnesium is the central atom in chlorophyll, the molecule responsible for photosynthesis, the process where plants turn sunlight and nutrients into green growth. Most of the magnesium in plants is found in chlorophyll.
Sulphur: It is essential for the production of amino acids, which are the building blocks of proteins found in all living things. Sulphur also helps in giving crops like onions, mustard and radish, their characteristic color, while it is abundant in soil that is rich in organic matter.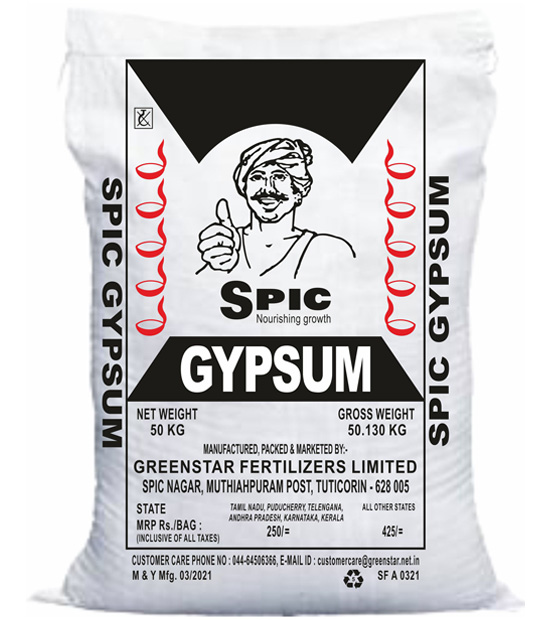 Packing – 50 kg HDPE Bag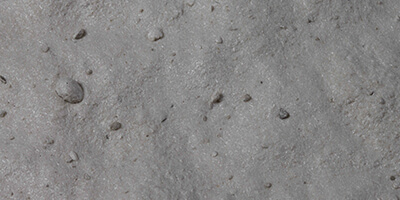 SPIC Gypsum (Agricultural Grade)
SPIC Gypsum is a by-product from Greenstar's phosphoric acid manufacturing plant.

APPLICATION
For Agricultural use
Gypsum works as an agent to remove saline or alkaline ingredients in the soil and acts more or less like manure.
For Industrial use
Gypsum is used to manufacture Gypsum boards. In the cement industry, Gypsum is used to manufacturing lime. Gypsum is also used in manufacturing Plaster of Paris.
SPECIFICATION
White crystalline powder
SPIC Gypsum is an ideal soil conditioner and a rich source of Calcium (23%) and Sulphur (18%). CaSO4, 2H20 95% (Min.), Total – P2O5 – 0.50%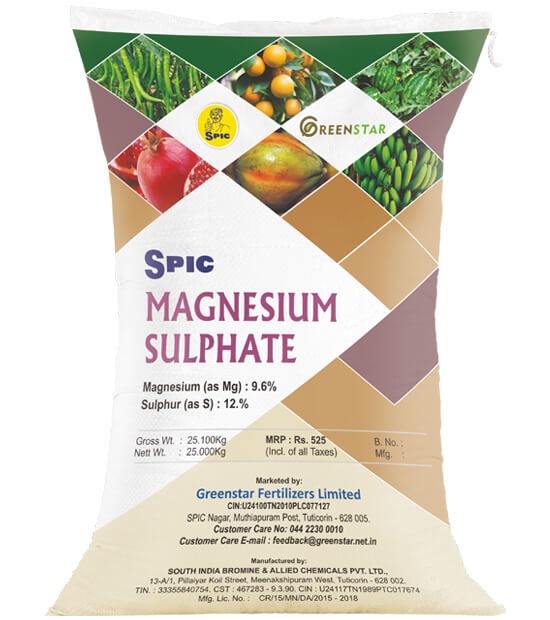 25 kg / 50 kg HDPE Bags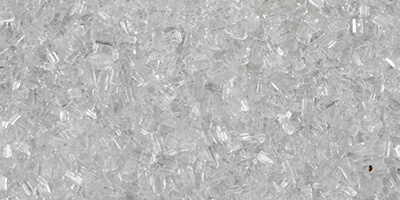 SPIC Magnesium Sulphate

APPLICATION
Magnesium Sulphate is used to relieve magnesium deficiency found during intensive cropping of many fruit and vegetable species worldwide.
Magnesium Sulphate increases the dry matter yield and crude protein content in guinea grass.
In acid soils, Magnesium Sulphate can be added to promote healthier growth of plants such as Tomatoes.
Magnesium Sulphate can be formulated into granular fertilizing mixtures as well as plant nutrient solutions.
Rapidly dissolving Magnesium Sulphate is the best magnesium source available for Foliar feeding as it significantly increases magnesium absorption as compared to feeding by soil application.
Description
Magnesium Sulphate is commonly called as Epsom Salts (MgSO4.7H2O). Magnesium sulphate is a kind of small white crystal and widely applied on Rubber, Oil Palm, Tobacco, Orange, all Citrus varieties, Fruit crops and Vegetables which needs magnesium.
SPECIFICATION
| Sl. No. | Composition | Percent |
| --- | --- | --- |
| | Appearance – Free flowing crystalline / powder | |
| 1 | Matter insoluble in water (Maximum) | 1.00% |
| 2 | Magnesium as Mg (Minimum) | 9.50% |
| 3 | Lead as Pb (Maximum) | 0.03% |
| 4 | pH (5% Solution) | 5.0 – 8.0% |
| 5 | Sulphur as S (Minimum) | 12.00% |
| 6 | Cadmium as Cd (Maximum) | 0.02% |
| 7 | Arsenic as As (Maximum) | 0.01% |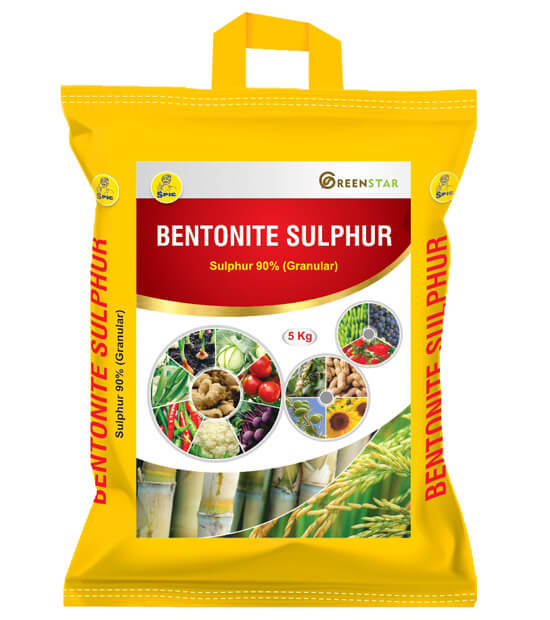 5 kg, 10 kg & 25 Kg
SPIC Bentonite Sulphur
Description
Contains 90 % of Sulphur in granulated form
Helps in production of chlorophyll and protein synthesis in plants
Increases Oil content in oil seed crops
Increases crop yield and enhances produce quality
Helps in reducing soil pH in alkaline soil
RECOMMENDATION
Highly recommended for Oil seeds, Cereals, legumes, Cash crops & Horticulture crops
Foliar Spray: 5 gm/ lit during 1st top dressing
Soil Application: 8 - 10 kg/ acre as basal or during 1st top dressing for all crops (or) 1 kg/ acre through Fertigation