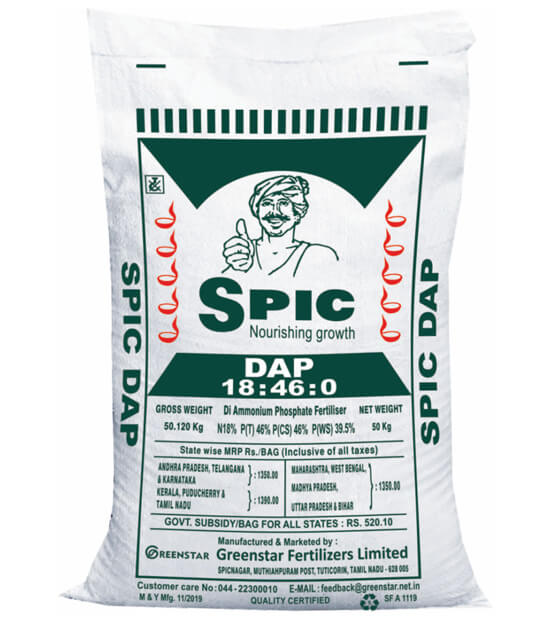 Packing – 50 kg HDPE Bag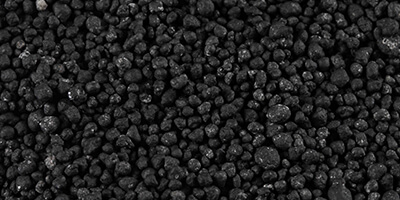 SPIC DAP (Imported)
Two stream DAP plant, with a total rated capacity of 6,06,100 MTPA. Main raw materials for the production of DAP are Sulphur & Rock Phosphate.

APPLICATION
Used as complex fertilizer for supply of 'N' and 'P2O5' nutrients. – Recommended for basal application of fertilizers due to slow releasing nature of DAP.
Description
Contains the second most important primary nutrient element, Phosphorous besides Nitrogen.(Nutrient:18% N, 46% P2O5).
Unique black colour and uniform size granules.
Contains micro nutrients such as Iron, Zinc, Manganese and Molybdenum and important plant nutrients such as Sulphur, Calcium, Magnesium, Nitrogen and Phosphate.
SPECIFICATION
S. No.
Composition
Content
1.
Moisture per cent by weight
Maximum
2.5%
2.
Total Nitrogen per cent by weight
Minimum
18.0%
3.
Ammoniacal Nitrogen form per cent by weight
Minimum
15.5%
4.
Total Nitrogen in the form of urea per cent by Weight
Maximum
2.5%
5.
Neutral Ammonium Citrate soluble phosphates (as P205) per cent by weight
Minimum
46.0%
6.
Water soluble phosphorus (as P205) per cent by weight
Minimum
41.0%
7.
Particle size – not less than 90% of the material shall pass through 4 mm IS sieve and be retained on 1 mm IS sieve. Not more than 5% shall be below than 1 mm size.