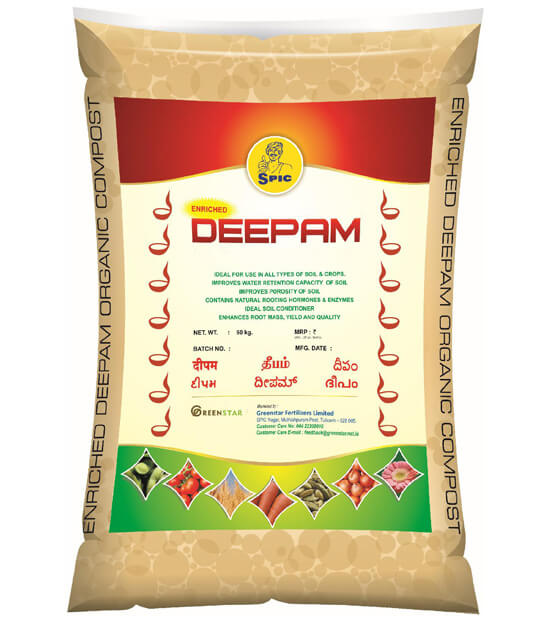 50 Kg HDPE Bag Packing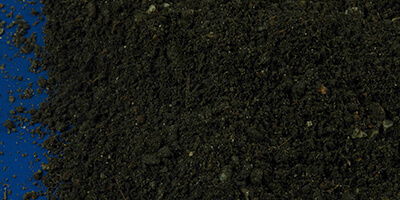 SPIC Deepam
Anaerobically digested bio – organic manure – biomethanated compost- Bio – Organic Product SPIC DEEPAM is a Bio Organic Compost and is formed by Biomethanation process. Biomethanation Process is breaking up of complex organic material in the feedstock to generate Biogas with the activity of methanogenic bacterium in a controlled anaerobic condition. The process generates biogas (majority methane) and a 100% digested Bio slurry is obtained as by-product. The digestate is then dried in drying yard to about 25-30% Moisture level. During the drying process, part of the liquid fertilizer is sprayed on the Bio solids to enrich its Nutrient content (N: P: K).
Feedstock used are organic material which are rich in nitrogen and potash, rich in methanogenic bacterium, a very rich compost and brings sulphur additives to the compost

APPLICATION
It can be applied mainly as basal dose for all crops and also can be applied at all stages of the crop. The recommended dosage is minimum 200 Kg per acre.
SPECIFICATION
Product Category – Biomethanated Compost
S. No.
Composition
Content
1.
Moisture, per cent by weight
25.0%
2.
Size of Particles
95% less than 5 mm
3.
Bulk Density (g/cm3)
<1.0
4.
Total organic carbon per cent by weight,
Minimum
8 – 10%
5.
Total Nitrogen (as N) per cent by weight
Minimum
1.5 – 1.8%
6.
Total Phosphate (as P2O5) per cent by weight
Minimum
2.0 – 2.5%
7.
Total Potash (as K2O) per cent by weight
Minimum
1.2 – 1.5%
8.
NPK nutrients – Total N, P2O5 and K2O nutrient should not be less than 3%
9.
C:N ratio
<20
10.
pH
6.5-7.5
11.
Conductivity (as dsm ¯¹) not more than
4.0
12.
Pathogens
Nil
13.
Heavy metal content (as mg/kg)
Maximum
Arsenic as (As2O3)
10.0
Cadmium (as Cd)
5.0
Chromium (as Cr)
50.0
Copper (as Cu)
300.00
Mercury (as Hg)
0.15
Nickel ( as Ni)
50.0
Zinc (as Zn)
1000.00
Benefits
Ideal for use in all types of soil and crops
Improves water retention capacity of soil
Improves porosity of soil
Ideal soil conditioner
Enhances root mass