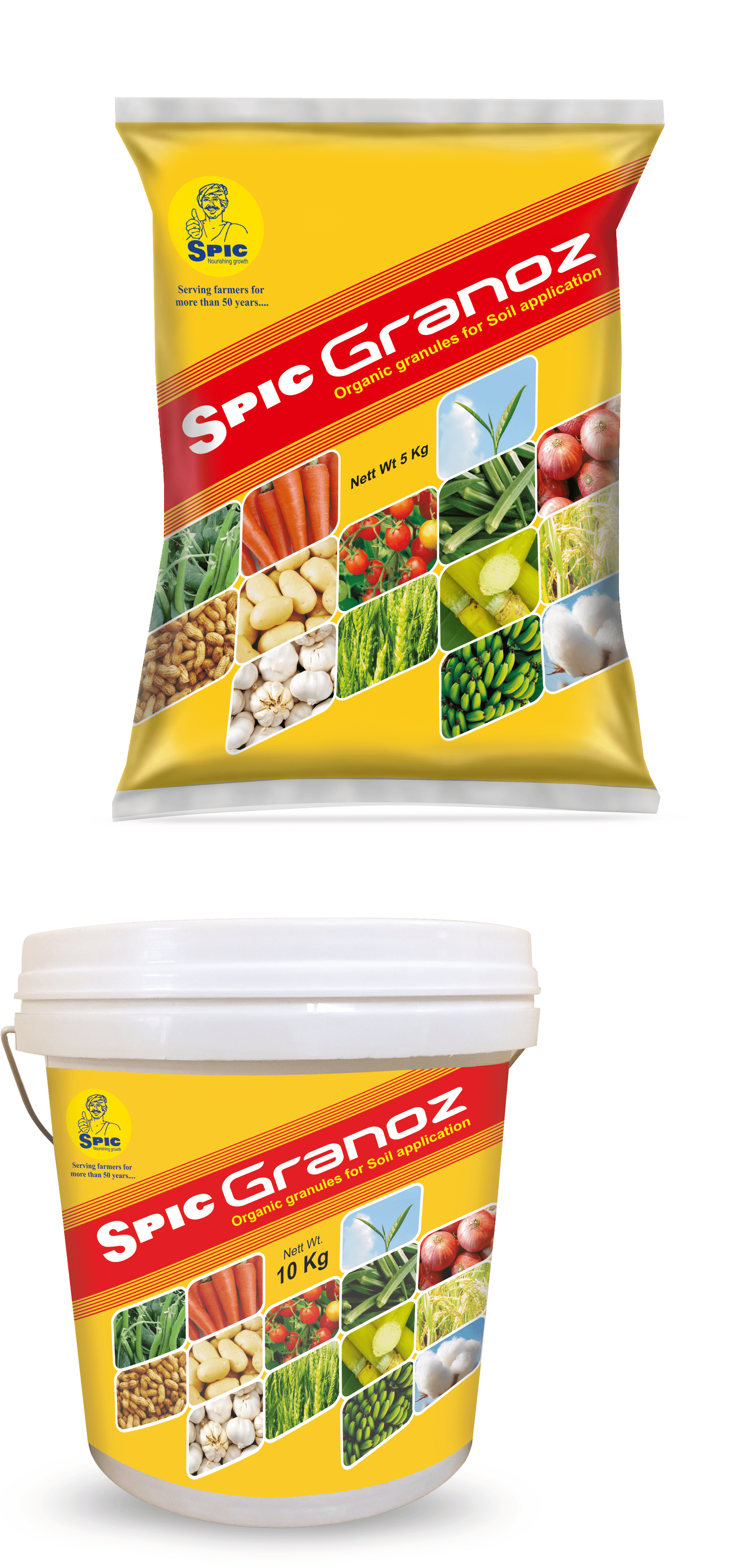 5kg / 10kg
SPIC GRANOZ (Granule)
Description
SPIC Granoz is generally a go-to choice fertilizer for producing large-sized vegetables and healthy plants. In many ways, SPIC Granoz is a best-kept garden secret. SPIC Granoz is a potential source of organic fertilizer best known for its multiple eco-friendly benefits. SPIC Granoz is cost-efficient and eco-friendly.
FEATURES
SPIC GRANOZ enhances absorption and uptake of other plant nutrients.

Acts as a catalyst for various biochemical and physiological activities.

Hastens maturity.

Aids in better retention of flower blooms.

Eco-friendly, Leaves no harmful residues behind and does not pollute ground water.
BENEFITS
Tremendously increases crop yield and improves the market quality of the produce.

Improves soil texture, aeration and water holding capacity.

Induces disease resistance and helps plants to overcome stress.
SPECIFICATION
Composition

Content

Moisture per cent by weight

Maximum

25.0

Particle size (material should pass through

4.0 mm IS sieve)

Minimum

90.0

Total Organic carbon, per cent by weight

Minimum

14.0

Total Nitrogen (as N) per cent by weight

Minimum

0.5

Total Phosphates (as P2O5) per cent by

Minimum

0.5

Total Potash (K 2O) per cent by weight

Minimum

0.5

pH

Maximum

6.7

Conductivity (as dSm-1) not more than

5.0

NPK nutrients - Total N,P 2O5 and K2O nutrient

not less than 3

C:N ratio

less than 20.0

Pathogen

nil

Bulk density (g/ cm3) less than

<1.0

Heavy metal content (as mg/kg) per cent by weight

Arsenic (as As2O3)

Maximum

10.00

Cadmium(as Cd)

Maximum

5.00

Chromium(as Cr)

Maximum

50.00

Copper(as Cu)

Maximum

300.00

Mercury (as Hg)

Maximum

0.15

Nickel (as Ni)

Maximum

50.00

Zinc (as Zn)

Maximum

1000.00
Recommendation
5 – 10 kg / ac for all crops