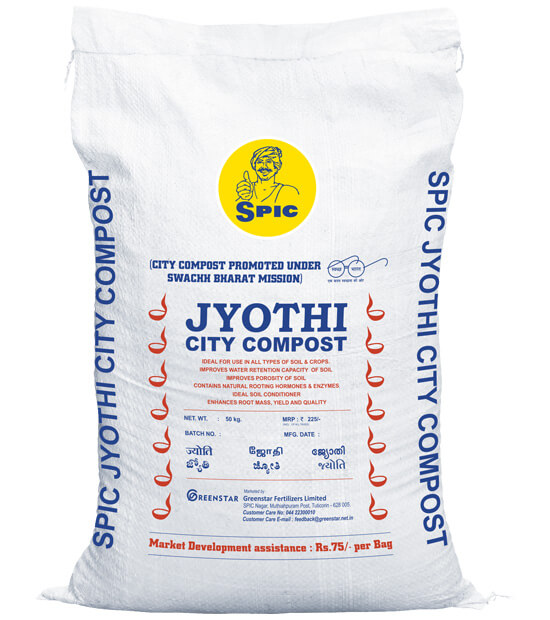 50 Kg BOPP Bag / HDPE Bag Packing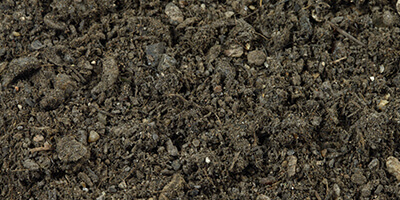 SPIC Jyothi
Greenstar's SPIC Jyothi is a quality organic manure to boost soil quality and ensure bumper yields. SPIC Jyothi is a perfect blend of N-P-K nutrients and proportionate presence of micro nutrients like zinc and copper, leading to healthy crops. SPIC Jyothi is ideal for use in all types of soil and crops.

APPLICATION
In general, for all crops a minimum of 200-500 kg /acre to be applied along with the other organic manures every year for a bumper yield.
Cereals, pulses, and oil seed crops at 200 kg /acre
Sugarcane at 200-400 kg /acre
Vegetable and other annual horticultural crops at 200-400 kg/acre.
Coconut, fruit crops and plantation crops at 300-500 kg/ acre.
SPECIFICATION
S. No.
Composition
Content
1.
Moisture, per cent by weight
15.0% – 25.0%
2.
Colour
Dark brown to black
3.
Odour
Absence of foul odour
4.
Particle size
Minimum 90% material should pass through 4.0 mm IS sieve
5.
Bulk Density (g/cm3)
<1.0
6.
Total organic carbon per cent by weight,
Minimum
12.0%
7.
Total nitrogen (as N) per cent by weight
Minimum
0.8%
8.
Total Phosphate (as P2O5) per cent by weight
Minimum
0.4%
9.
Total potash (as K2O) per cent by weight
Minimum
0.4%
10.
C:N ratio
<20
11.
pH
6.5-7.5
12.
Conductivity (as dsm ¯¹) not more than
4.0
13.
Pathogens
Nil
14.
Heavy metal content (as mg/kg)
Arsenic as (As2O3)
Maximum
10.0
Cadmium (as Cd)
Maximum
5.00
Chromium (as Cr)
Maximum
50.00
Copper (as Cu)
Maximum
300.00
Mercury (as Hg)
Maximum
0.15
Nickel ( as Ni)
Maximum
50.0
Lead ( as Pb)
Maximum
100.0
Zinc (as Zn)
Maximum
1000.0
HIGHLIGHTS
Improves soil structure, texture and, therefore, soil productivity
Steady nutrient release, customized to the relevant crop's requirement, leading to economy of nutrient use
Extremely useful during all stages of plant growth
Improves porosity of soil and water retention capacity of soil
Contains rooting hormones and enzymes
Ideal soil conditioner, enhances root mass, yield and quality