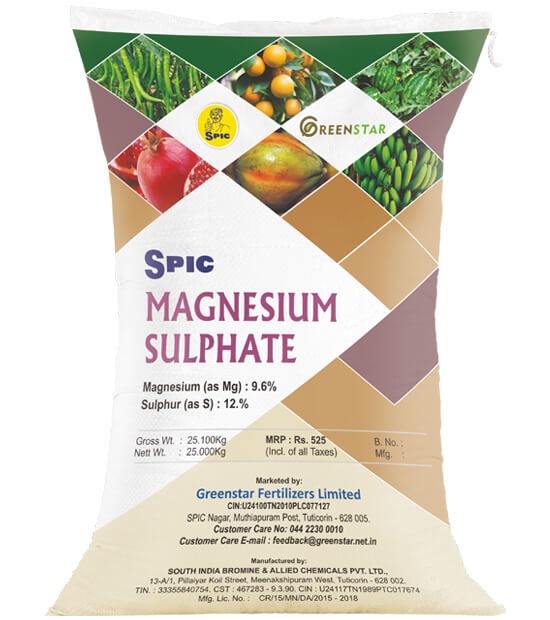 25 kg / 50 kg HDPE Bags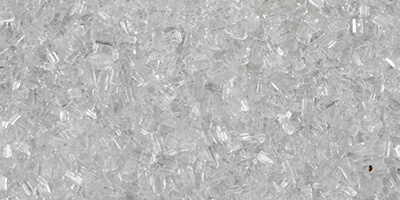 SPIC Magnesium Sulphate

APPLICATION
Magnesium Sulphate is used to relieve magnesium deficiency found during intensive cropping of many fruit and vegetable species worldwide.
Magnesium Sulphate increases the dry matter yield and crude protein content in guinea grass.
In acid soils, Magnesium Sulphate can be added to promote healthier growth of plants such as Tomatoes.
Magnesium Sulphate can be formulated into granular fertilizing mixtures as well as plant nutrient solutions.
Rapidly dissolving Magnesium Sulphate is the best magnesium source available for Foliar feeding as it significantly increases magnesium absorption as compared to feeding by soil application.
Description
Magnesium Sulphate is commonly called as Epsom Salts (MgSO4.7H2O). Magnesium sulphate is a kind of small white crystal and widely applied on Rubber, Oil Palm, Tobacco, Orange, all Citrus varieties, Fruit crops and Vegetables which needs magnesium.
SPECIFICATION
| Sl. No. | Composition | Percent |
| --- | --- | --- |
| | Appearance – Free flowing crystalline / powder | |
| 1 | Matter insoluble in water (Maximum) | 1.00% |
| 2 | Magnesium as Mg (Minimum) | 9.50% |
| 3 | Lead as Pb (Maximum) | 0.03% |
| 4 | pH (5% Solution) | 5.0 – 8.0% |
| 5 | Sulphur as S (Minimum) | 12.00% |
| 6 | Cadmium as Cd (Maximum) | 0.02% |
| 7 | Arsenic as As (Maximum) | 0.01% |