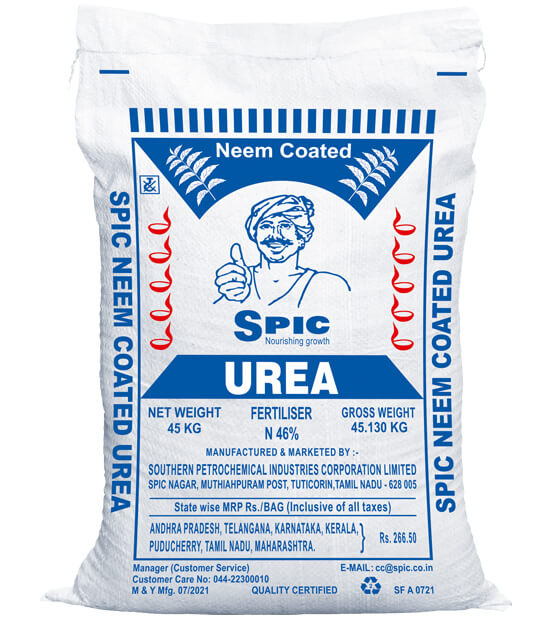 Packing – 50 kg HDPE Bag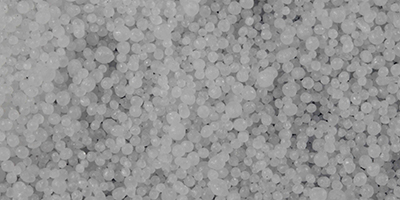 SPIC Neem Coated Urea (Imported)
Single stream urea plant, with a rated capacity of 6,20,400 MTPA. Main raw materials for the production of Urea are Ammonia and Carbon Dioxide for which the feedstocks are Naphtha and Fuel Oil.

APPLICATION
Used as Nitrogenous fertilizer
Can be applied to soil. Also suitable in solution form as spray.
Application is recommended in split doses for better use efficiency.
In processing of cotton and textile mills and also used as a raw material for chemical products, dyes and pharmaceuticals.
Description
Synthetic organic compound containing 46% Nitrogen in Amide forms.
A white solid uniform & high crushing strength prills with free flowing for easy application.
Being Hygroscopic, urea is packed in moisture proof High Density Poly Ethylene bags.
SPECIFICATION
S. No.
Composition
Content
1.
Moisture per cent by weight
maximum
1.0%
2.
Total nitrogen per cent by weight
minimum
46.0%
3.
Biuret per cent by weight
maximum
1.5%
4.
Benzene soluble content per cent by weight
minimum
0.035%
5.
Particle size: Not less than 90% of the material shall pass through 2.8mm IS sieve and not less than 80% by weight shall be retained on 1mm IS sieve