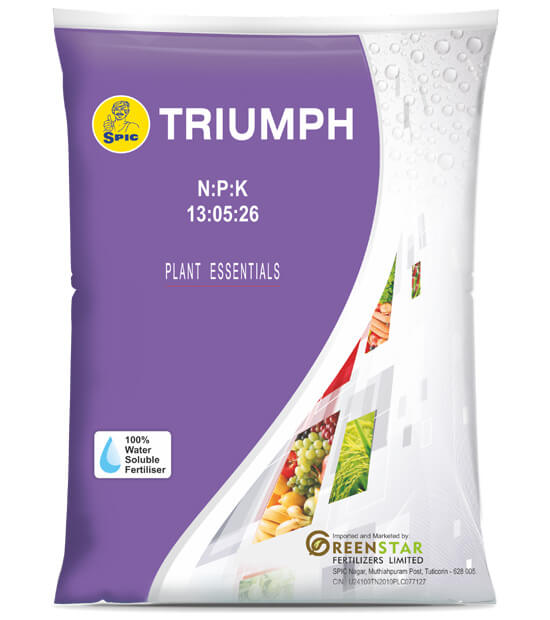 Packing – 25 kg HDPE Bag & 1 kg poly pouch.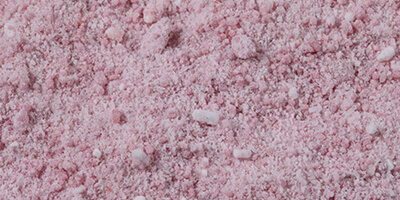 SPIC Triumph (NPK 13 05 26)
Description
SPIC TRIUMPH 13:05:26 is a Water Soluble Fertilizer in crystalline powder form containing 13 % of Nitrogen (Nitrate Nitrogen–7 % and Ammoniacal Nitrogen–6%), 5% of Phosphorus and 26% of Potash.
SPECIFICATION
S. No.
Composition
Content (%)
1.
Total Nitrogen percent by weight
Minimum
13.0
2.
Nitrate Nitrogen percent by weight
Maximum
7.0
3.
Ammoniacal Nitrogen, percent by weight
Minimum
6.0
4.
Water soluble Phosphorous (as P2O5) percent by weight
Minimum
5.0
5.
Water soluble Potash (as K2O) percent by weight
Minimum
26.0
Features and Benefits
Instant uptake of nutrients by the plants results in a significant and quick improvement in crop growth and yield.

It's suitable in all the growth stages of a crop namely the seedling stage, vegetative stage, reproductive stage and ripening stage.

The nutrients are textured and cohesively balanced. Hence, this will give the better result and excellent yield in all crops like fruits, vegetables, flowers, field crops, foliage crops etc.
RECOMMENDATION
5 gm/lit as a foliar application.