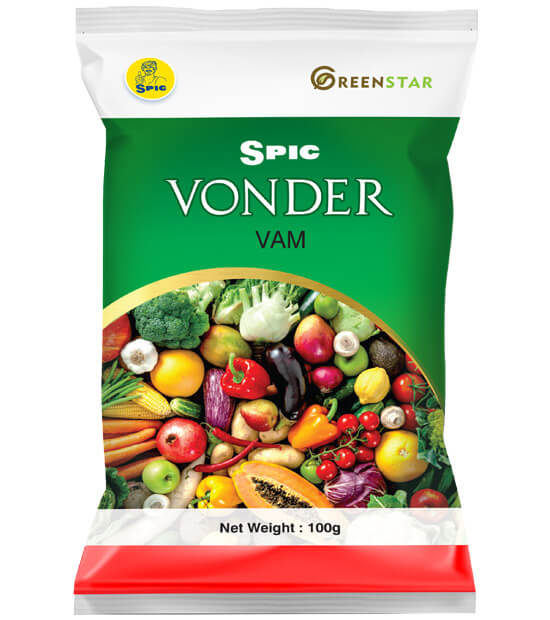 100 gms Packing
SPIC Vonder
Mycosym wonder is a Vesicular Aurbuscular Mycorrhizal preparation contains spores (asexual resting Clamydospores), fragments of mycorhizal fungal filaments and infected roots bits. WS-VAM preparation is made on water soluble carrier contains endo-mychorrhizal species @ 100,000spores or 200,000 infective propagules per 100gram of the product. This concentrated fine material is ideal for "Water in" or "Spray" applications.
Mycosym wonder provide the plant additional access to soil nutrients and water and thus helps the plants to overcome nutrient burn and drought .
Mycosym wonder acts as a "soil internet", When the mycorrhizae "connect to a plant", it triggers the plant immune system to release "defense-related chemicals." It makes the host plants more disease-resistant.
Mycosym wonder solubilizes and mobilizes the nutrients into root at vertical cells.

APPLICATION
Seed treatment: 25-50g of Mycosym wonder for seeds required per hectare
Fertigation, drenching spray, soil drenching
Apply approximately 15 days after sowing or first application
250 grams per hectare
Transplanted crops (chili, capsicum, onion, tomato, eggplant, cole, and annual transplanted crops)
First application: seedling dip
10 grams per litre of water
Dip the seedling in solution for 5 minutes before transplanting
Second application: fertigation, drenching spray, soil drenching
Apply approximately 15 days after transplanting (coinciding with owering)
250 grams per hectare
Horticultural crops (fruit crops, plantation crops, perennials)
First application: soil drenching or fertigation
At the time of fertilizer application
250 grams per hectare: 0 to 6-yearold crop
500 grams per hectare: > 6-year-old crop
Second application: soil drenching or fertigation
40 to 45 days after first application
250 grams per hectare: 0 to 6-yearold crop
500 grams per hectare: > 6-year-old crop
SPECIFICATION
| | |
| --- | --- |
| Form / base | Fine powder root biomass mixed with growing substance |
| Particle size for carrier based | 90% should pass through 250 micron IS sieve powder formulations (60 BSS). |
| Moisture content per cent Max. | 12% |
| pH | 6.0 – 7.5 |
| Total viable propagules / gram of product | 100 g of finished product with minmium 60 spores per gram |
| Infectivity Potential | Inoculum potential : 1200 IP / g |