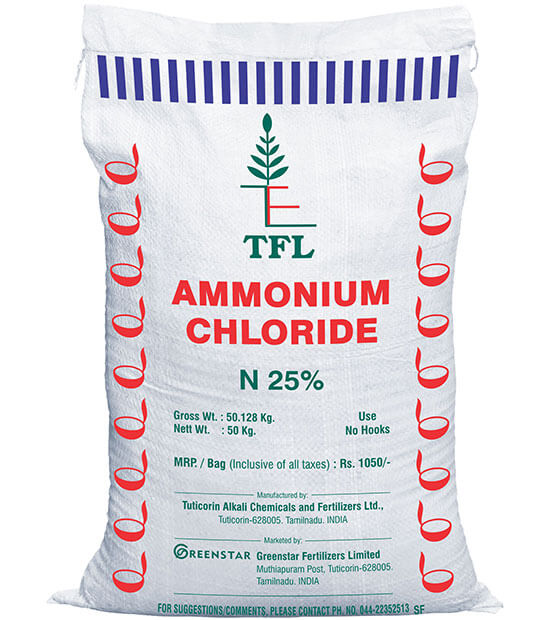 Packing – 50 kg HDPE Bag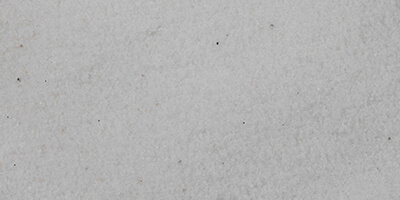 TFL ACL : Ammonium Chloride (N 25%)
Ammonium Chloride fertilizer is manufactured by M/s. Tuticorin Alkali Chemicals and Fertilizers Ltd. and is marketed by Greenstar Fertilizer Ltd.

APPLICATION
As per Fertiliser schedule recommendation, requirement of ACL is worked out and applied as basal and top dressing for all crops.
Description
Ammonium Chloride contains 25 percent Nitrogen. Besides Nitrogen, Chlorine present in Ammonium Chloride is also an important micro nutrient. Improves root formation and ensures quality product output. The entire Nitrogen is present in Ammonical form.
Ammoniacal Nitrogen is not lost by leaching, since NH4 is fixed by soil clay and humus complex. On application to the field, Nitrogen will be released as and when the demand arises from the crop.
When Ammonium Chloride is applied as basal or top dressing for cultivated crops, loss of nitrogen is very less. Consequently, more N will be utilized by the crop, thereby fertilizer use efficiency is increased.
Ammonium Chloride fertilizer application is recommended for saline and alkaline soils.
It is also a suitable Nitrogenous fertilizer for application in low-lying areas where paddy and other crops are cultivated by farmers.
Chlorine present in Ammonium Chloride gives resistance to some pests and diseases.
Ammonium Chloride is less hygroscopic than other fertilizers which means the fertilizer has a fairly long life in storage.
The chloride radical in Ammonium Chloride frees Phosphorous, Potash, Magnesium, Silica, Iron etc. from the soil.
SPECIFICATION
S. No.
Composition
Content
1.
Moisture per cent by weight
Maximum
2.0%
2.
Ammoniacal nitrogen per cent by weight,
Minimum
25.0%
3.
Chloride other than ammonium chloride (as NaCI) per cent by weight, (on dry basis)
Maximum
2.0%